Creative solutions for bioprocessing challenges
At Avitide, we address bioprocessing challenges by developing proprietary affinity purification solutions as diverse as our partners' therapeutics. We do not believe that one affinity ligand fits all, and have now optimized a portfolio of proprietary AVIPure™ affinity ligands and an innovative, end-to-end affinity purification product platform. We work with our partners from concept through commercial resin supply to achieve unparalleled speed of affinity resin development and chromatographic performance with purity, yield, stability and binding capacity.
Partnerships are as diverse as its partners and molecule separation needs. Avitide is the sole pioneer in creating affinity chromatography technologies that have selectivity for the product and not for product-related impurities. Impurity separations to date include capture of product and removal of truncations, misfolded/inactive conformers, aggregates, and product impurities with post-translational modifications. Avitide partnerships span all phases of drug development and types of molecules.
Discovery/Lead Development, where rapid generation of discovery material and line of sight to process development is critical to candidate selection
Preclinical, where our affinity purification and analytical platform accelerates the development path to clinical GMP production
Clinical, where CMC goals are well understood and scale-up needs are addressed
Commercial Stage, where life-cycle management of legacy purification processes is targeted to achieve lower cost of goods and higher facility productivity, and
Next-Generation Processes, where clinical and commercial programs shift to semi-/fully continuous downstream processing.
Partnerships represent all stages of development
Drug modalities reflect pipeline diversity
Projects Canvas Broad Separation Needs
Custom Affinity Resin Development Process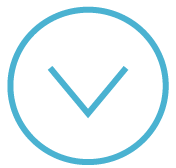 Set resin specifications, materials transfer
With a focus on speed and recognition that each of our partners' needs is unique, we begin our collaborations by launching a thorough situation analysis that defines specifications, determines timelines, and sets strategy to achieve optimal results.
AVIPure™ Affinity ligand discovery
In simplistic terms, high affinity, high selectivity affinity ligands can be thought of as a lock-and-key model for biological recognition. IT'S ALL ABOUT THE FIT. Given the diversity across biologics, it is not possible to predict a priori which ligand type is better than others.  However, it is known that a single ligand class or scaffold will not work every time. The cost of time and failing to develop a solution is unrecoverable.
To avoid this, Avitide applies its proprietary portfolio of AVIPure™ ligand scaffolds (40+ to date) and library diversity (greater than 1E14), enabling a vast interrogation of different ligand sizes, shapes, conformations, and contact areas. The implementation of this extreme diversity enables Avitide's delivery success rate and unrivaled affinity purification performance in the industry. Throughout ligand discovery stage, we quickly screen and arrive at optimal ligand candidates for each biomolecule focusing on affinity, stability, and manufacturability.
Following analytical characterization of ligand binding, elution kinetics, and selectivity, we deliver a data package to our partners and recommend lead ligands to transition to the resin development stage.
>1E14
ligand library diversity
>40
unique ligand scaffolds
Affinity resin development
Once a subset of ligand candidates is selected, production is scaled up using methods appropriate for commercial resin manufacturing. We then produce hundreds of candidate resins for screening, evaluating a resin manufacturing DOE that takes into consideration ligands and ligand density, chemistry, matrix type (size and porosity), and linkers. We also evaluate affinity resin separation performance in relevant bioprocess feedstreams, establishing binding and elution conditions within each molecule's stability profile and separation and operational conditions that achieve each of our partner's resin specifications.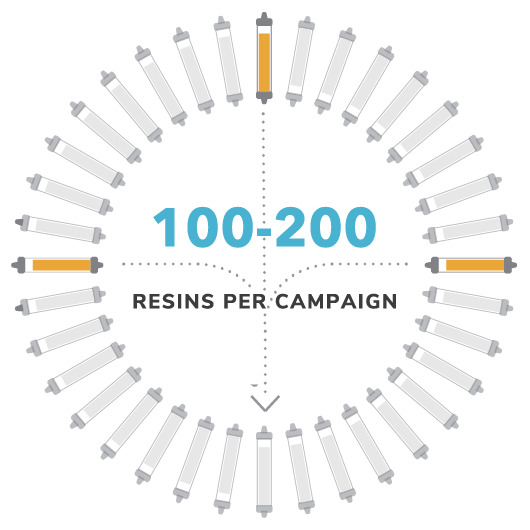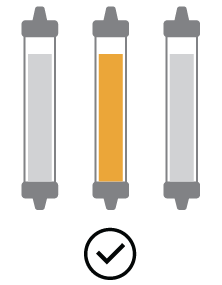 Prototype resins delivered, lead resin nominated
With the project complete, we conduct an onsite technology transfer of the resins, data, and protocols to our partner. We then collaborate, providing ongoing technical support wherever necessary, to ensure operational success.  Our partners confirm our results and initiate further testing to nominate their preferred resin for commercial supply.
Application Notes that demonstrate how we:
Result A
Subtitle exeriantin ea nati cus eos min con porest. Xerchicta et, sita voloreiciis sin pro maximetur aut laborum quis ulparum quasper itiuscimi, arumquidi.
Result B
Subtitle exeriantin ea nati cus eos min con porest. Xerchicta et, sita voloreiciis sin pro maximetur aut laborum quis ulparum quasper itiuscimi, arumquidi.
Result C
Subtitle exeriantin ea nati cus eos min con porest. Xerchicta et, sita voloreiciis sin pro maximetur aut laborum quis ulparum quasper itiuscimi, arumquidi.

Subscribe to hear the latest news and insights…